We provide solution-based Geographic Information System (GIS) services to Government or Non-Govt. Organizations/Institutions/Establishments.
There's plenty of data out there just waiting to be mined (Population growth, Health scenario, financial stability, declining infrastructure, etc. GIS can help optimize resource planning and analysis activities by allowing you easily to see patterns centered on regional areas, which can, in turn, help you decide where to focus efforts.
The GIS landscape has evolved significantly. Data are compiled from multiple sources, allowing the gallery of maps to cover a broad range of social determinants allowing service providers to identify strengths and gaps within the community. Seeing data combined visually on a map makes the decision-making process that much easier. Through the use of interactive features, digital maps provide enhanced usability by allowing users to actively engage with the data thereby increasing the capacity for data integration and analysis.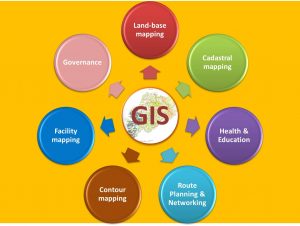 By using GIS you can also reduce the time and effort spent on research, assembling facts, creating and updating reports. Our GIS services help our clients in visualizing geographic data, managing the data and analyzing spatial relationships efficiently and accurately.
Our high-end software, hardware and systems try to integrate various services like GIS, GPS etc. to create all-inclusive services and constantly upgrading the systems and processes helps us and our clients to get the best out of the latest technologies. Our clients are served by qualified professionals, having years of on-field experience and domain knowledge, who believe in innovating and customizing the services in every project according to the client's needs.
 "Ultimately, it's about making good decisions and then being able to react quickly to put your plans into motion"
More Details..